Watch trailers, films, youtube videos, read or listen to audio books. Increase your knowledge one resource at a time.
Making it a Whole Food Plant-Based Lifestyle.
*Many of the links below contain affiliate links for your convenience. (Which means if you make a purchase after clicking a link, I will earn a small commission.  But it won't cost you a penny more)!  Click here to read my full disclosure policy.

Trailer:
Forks Over Knives – Official Trailer (Nov 2010)(2:11)
Forks Over Knives – Trailer #2 (Feb 2010)(2:55)
Forks Over Knives – The Extended Interviews – Trailer (Nov 2012)(1:26)
Film (DVD): (Available on Netflix)

Forks over Knives

Forks Over Knives The Extended Interviews

Websites:
Dr. Caldwell B. Esselstyn Jr.:
Dr. Esselstyn website
• The Last Heart Attack (Nov 2013) (41:14)
• No Oil – Not Even Olive Oil! (Sep 2011) (3:59)
• How to reverse heart disease Part 1 (Apr 2014) (5:25)
• How to reverse heart disease Part 2 (Apr 2014) (9:51)
• Speaking to The City of Medina (Jan 2012) (1:55:24)
• Speaking on Juicing and Smoothies (Aug 2014) (5:39)
• Interview with Dr Esselstyn, Jr. (Mar 2012)
Dr. McDougall:
Dr. McDougall website
• McDougall's Moments
Dr. Michael Greger:
•Nutritional Facts Website
Dr. Neal Barnard MD.:
Physicians Committee for Responsible Medicine Website
• How Soy Isoflavones Help Protect Against Cancer
T. Colin Campbell PhD
• Center for Nutrition Studies
Chef AJ's Teleclass:
• T. Colin Campbell, PhD (Jan 2015)(1:03:39)
• Julie Marie Christensen – Protective Diet (Dec 2014)(1:02:36)
• Dr. John McDougall (Oct 2014)(1:01:57)
Protective Diet:
•Free Recipes
•Free Class Presentations
•Website
Rich Roll Podcast
• T. Colin Campbell, PhD RRP79 (April 2014)

Books:

Prevent and Reverse Heart Disease by Dr. Esselstyn

Dr. Neal Barnard's Program for Reversing Diabetes

The Starch Solution by Dr. McDougall

The China Study – Dr. T. Colin Campbell, Ph.D. and Thomas M. Campbell II

Whole by Dr. Campbell
How Not to Die by Dr. Michael Greger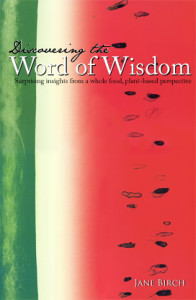 Discovering the Word of Wisdom: Book
Discovering the Word of Wisdom: Book (Amazon) 
Discovering the Word of Wisdom: Website
Discovering the Word of Wisdom: A short film